News and Events
WELLNESS WEEKEND!
May 14-15-16 2010
From music and dancing, to laughter, fun and honouring the craft/trades of our local/global community, to hands-on sharing and exploration: we invite you to join in and help us celebrate the goodness our community has to offer during International Fair Trade Week.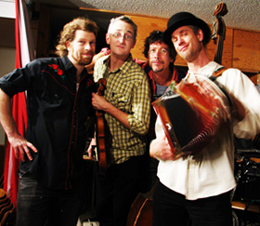 GODKNOWSWHAT : Bruce Cawdron, Brian Sanderson, Denis Drouin, Peter Andrée
FRIDAY, MAY 14TH
CAJUN DANCE NIGHT

Rupert Community Centre,
Chemin 24 Shouldice Rd. (
map
)
7 pm
FAMILY DANCE
8 pm
CAJUN TWO-STEP AND WALTZ LESSONS with Tom Calwell and Myra Hirshbert. (
www.dancingthread.ca/
).
To book a spot in the dance lessons (no partner required) e-mail Peter at
pandree@peterboro.net
.
9 pm - 12 am
CAJUN DANCE WITH
GODKNOWSWHAT
and special guest Tina Therrien from Peterborough's "BobCajun".
Tickets $10 at the door (kids are free) includes cost of lessons.
For info contact Peter Andrée at 459-1450.
N.B. Tom and Myra are the same instructors who sold out dance lessons at Wakefield's Le Hibou last November, so it's best to register in advance!
SATURDAY MAY 15, 2010
FAIR TRADE FAIR 10 AM - 2 PM
SOLSTICE Books & Music, 721 Riverside Wakefield. (
map
)
Our annual Fair Trade Community event, celebrating all things FAIR: from far away and local! Vendors, food, music, kids' event and a surprise appearance by some local Theatre Wakefield actors.
Stay tuned for the day's schedule TBA.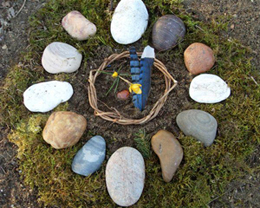 SUNDAY: MAY 16, 2010
WELLNESS GATHERING 11 AM - 3 PM
Rupert Community Centre,
Chemin 24 Shouldice Rd. (
map
)
In the spirit of community building, increasing the awareness of ourselves
and everything around us, and encouraging more reasons to look locally, we've organized an entirely local-based Wellness Gathering entirely F R E E for everyone. Adults, children, animals, the earth – we are cultivating the seeds of wellness for all through sharing, movement, feeling, sound, creation and education. Come share, nourish and celebrate our holistic sense of community and learn how the gaps between mainstream medicine and the field of alternative health and well-being can be bridged.
There will be lots of food, music, practitioners and mini-sessions, vendors, demonstrations, presentations, workshops, and door prizes. Pick up the April 7TH & May 12TH issues of the Lowdown for details.
For info on sign up times for workshops and mini-sessions please contact Destini Broom at 459.3564.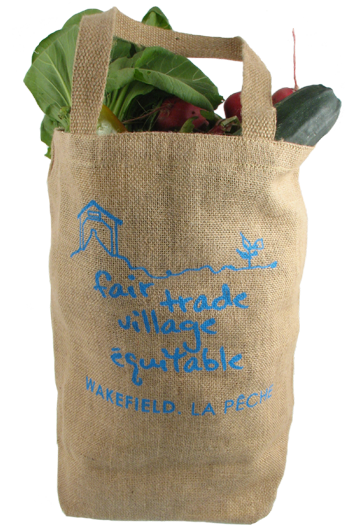 $10.00
Pick up your
FAIR TRADE, CO-OP MADE JUTE BAG!

Available around town at these locations:

GALERIE L'ART DE LA PAIX
815 Riverside Drive, Wakefield, Quebec 819-459-1320

LA FORÊT
Au coeur du village, 757 Riverside Drive, Wakefield, Quebec
819-459-3555

SOLSTICE BOOKS AND MUSIC
721 Riverside Drive, Wakefield, Quebec 819-459-2797

LA TULIPE NOIRE
715 Riverside Drive, Wakefield, Quebec 819-459-3847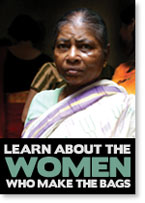 Your purchase of this bag by

FreeSet™

helps continue a journey of freedom. In Kolkata (Calcutta), thousands of women are trapped in prostitution, forced there by poverty. The women in this co-op have chosen freedom by earning new skills. Their new lives include fair wages, health benefits, pension funds, literacy classes and daycare for their children. More importantly, they are no longer forced to sell their bodies, and their children have new opportunities.

Jute – an environmentally friendly fibre

Jute is a rain-fed crop that doesn't need much in the way of fertilizer or pesticides. Production is concentrated around the Ganges delta region of India and Bangladesh where the warm, wet climate during the monsoon season provides ideal growing conditions. It takes between four and six months for the plants reach a height of around 12 feet (3.5m) when they are harvested. The harvested stems are then tied together and soaked in water to soften before being stripped of their fibers.

Jute Facts
• Jute fabric is commonly known as hessian or burlap.
• India produces around two thirds of the world's jute.
• Environmentally friendly, jute fiber can be recycled.
• You can eat it! Apparently it's a bit like spinach.



Fair Trade Town 2 Year Anniversary!
The Rupert Ceilidh "Dish 'N Dance"
SATURDAY, NOVEMBER 21st

A fun evening of Ceilidh dancing with the area's hottest new dance band SpoutBec (Brian Sanderson, Bruce Cawdron, Denis Drouin and Peter Andrée) and caller Natacha Ducharme. Co-hosted with Wakefield's Fair Trade Town Committee, the evening marked the launch of the community's dish-lending library initiative.





Wakefield Harvest Fest, September 25-26-27 '09

Due to popular demand, we'll have 2 workshops - one at 11 am and one at 11:30:
"ALTERNATE WAYS TO PRESERVE THE FALL BOUNTY"

Along with the bake sale, we'll have our new jute, fair trade co-op-made,
bags for sale to put yer veggies in (see photo above)
as well as fair trade organic brown and red rice to put yer veggies on!

Please see the Harvest Fest Program for more details about this bountiful, fun filled weekend.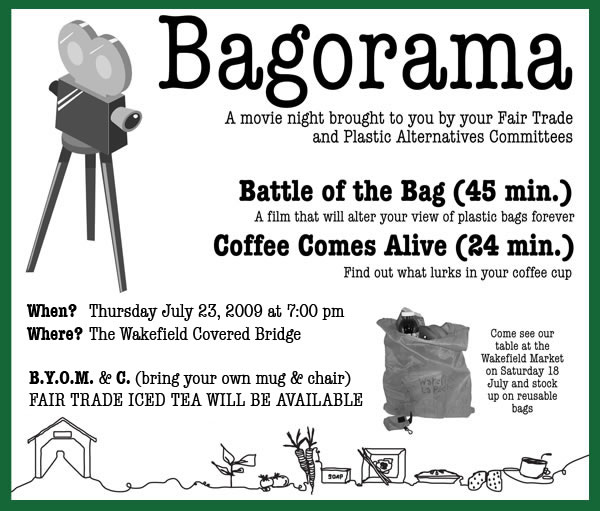 Wakefield Fair Trade Fair, May 9th, 2009
The Wakefield Fair Trade Choir

---
Fair Trade Week on Saturday, May 9th, 2009
MAYDAY! FAIR TRADE Fair May 9th in front of Solstice Books,
721 Riverside Drive, Wakefield, Quebec.
Local producers, artisans, fair trade products and snacks.
Info on plastic bag alternatives and more!

Fair trade/ECO Fashion show - Ooh la la!
MUSIQUE - Claude LaChaine - oui oui! C'est le fun!
THE BLACK SHEEP INN: A film about the real scoop on plastic & our planet.
Also info session with our village's Plastic Bag-Free Group on what we can do.
All free! Gratuit!
---
A celebration of our first anniversary as Québec's first fair trade town!

Sunday 16 November 2008 at Wakefield's United Church, 739 chemin Riverside from 10:00 am to 12:00 noon. The celebration included a screening of the movie Black Gold (www.blackgoldmovie.com) and some songs from local folk musician Alise Marlane. Fair trade coffee and goodies. Free Admission.
At this occasion a new initative by the Fair Trade Steering Commitee will be unveiled. As part of its commitment toward sustainability and the environment the Committee wants to encourage reduction of plastic bag consumption within the limits of the Municipality and beyond. In order to achieve this goal, the Committee is asking anyone interested, be they business owners, consumers, activists, to come forward and contact Chantal Plamondon, co-owner of Wakefield-based business Life Without Plastic at email chantal@lifewithoutplastic.com. As the holiday season is fast approaching, consumers need to be reminded that plastic bags are a serious cause of needless waste and environmental damage.
Take a look at our Press Release by clicking here.
---
PRESERVE WORKSHOP
HARVEST FESTIVAL, WAKEFIELD, SEPTEMBER 2008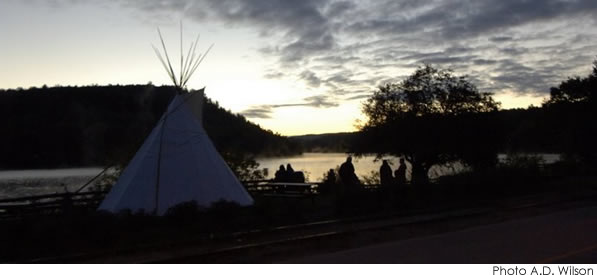 During the 2008 Harvest Festival, we held a workshop on preserving food for the winter months. The recipes presented during the workshop can be downloaded here: preserve recipes.
SOCCER RALLY IN LA PÊCHE, AUGUST 2008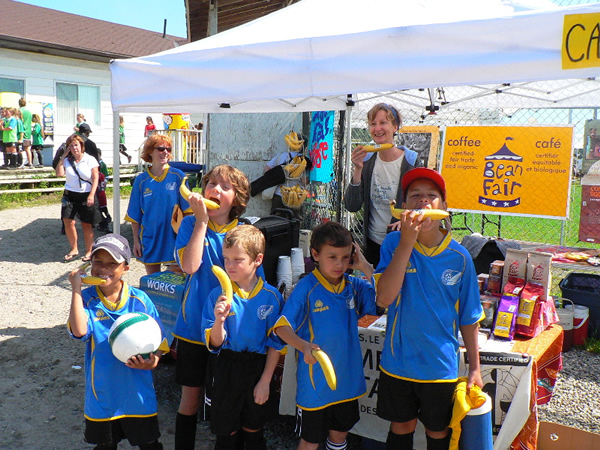 CANADA DAY PARADE, JULY 2008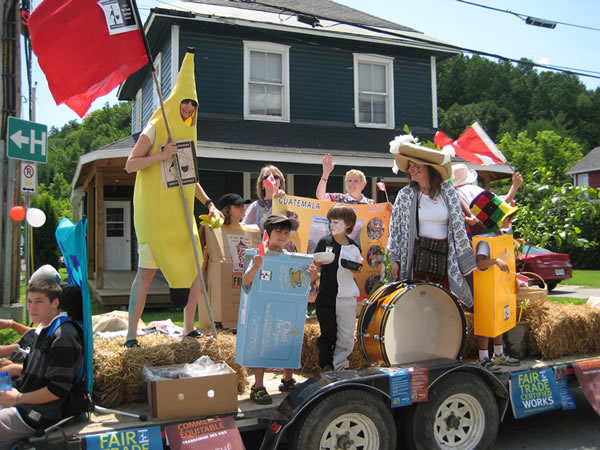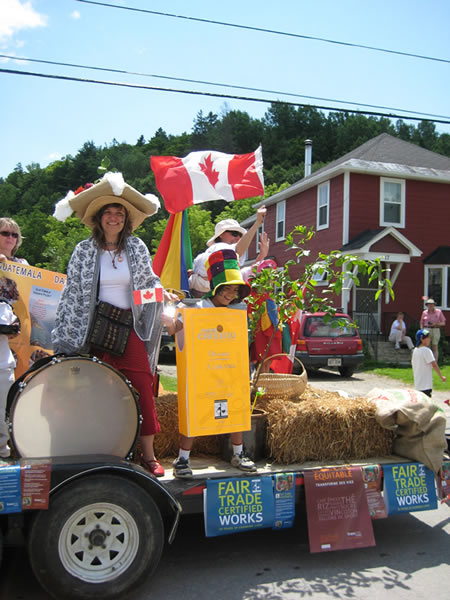 FAIR TRADE FAIR, MAY 2008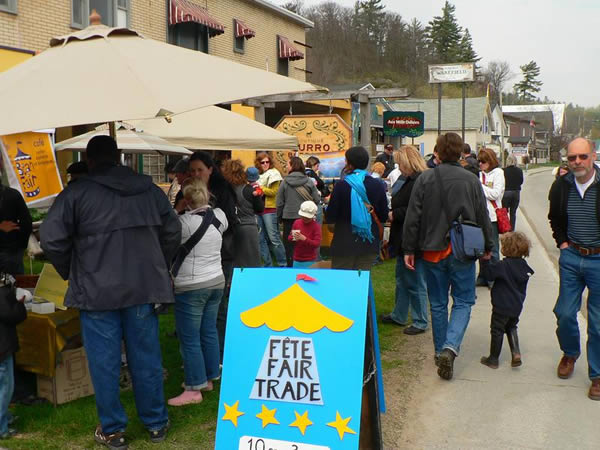 OFFICIAL DESIGNATION BY PHIL COHEN, VILLAGE POET, WAKEFIELD, 9 NOVEMBER 2007, CELEBRATION PARTY AT THE BLACK SHEEP INN